We are certificated and have a wealth of experience and knowledge in dealing with the troublesome Japanese Knotweed.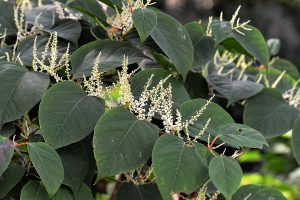 If you suspect Japanese knotweed in your garden or place of work it needs to be dealt with as the problem will not go away without treatment.
Japanese Knotweed is a very vigorous strong plant and can destroy buildings, if you are hoping to sell a property with Japanese Knotweed you will not be able to get a surveyor to pass it, the problem has to be dealt with. There is only one way to get rid of the problem and that is by stem injecting each stem 2 to 3 times a year with special chemicals until the problem has been eradicated and declared clear of Japanese Knotweed.
If you find Japanese Knotweed do not panic and try and cut it back yourself as dumping the rubbish can cause it to regenerate and spread to other areas the risings from Japanese Knotweed has to be incinerated very carefully by experts in a controlled environment and stem injection on the remaining plant needs to be carried out with precision.
If you would like an assessment on suspected Japanese Knotweed Please do not hesitate to ask as the problem will only worsen over time.